We first found out about this from the guys at
Rural Exploration
-- a mess of modern homes bought up by the nearby Lehigh Valley International Airport. The airport has had a long history of buying land almost excessively, leaving the remaining homeowners wary of putting any work into their houses.
I can't recall how long it took us to get here. We got lost on every major step of the trip, starting with my directions bringing us all the way to the New Jersey border. It got worse from there. After we finally found 987, we were going the wrong way. We made it to Airport Road, and we saw a sign for Race Street. According to my directions, if we kept going on Airport Road, it would become East Race Street. Didn't happen. Turn around, get on Race Street, and miss the road we were looking for. Turn around, go down the road, and finally, we saw them.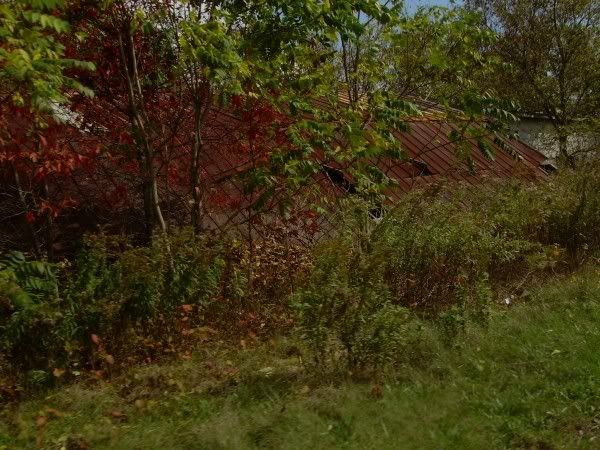 The pictures were pretty terrible -- my work, natch. The best house, modern but crusted with dirt, sheer curtains blowing in the opened windows, escaped our camera.
Trespassing was out of the question here. The road was busy, the air traffic tower loomed on the horizon, and we assume the airport is pretty mean. If it's willing to kick out dozens of people from their homes, it's probably happy to prosecute simple trespassers.
On the way home, we found something almost as good as the LVIA ghost suburb -- a mysterious, random abandoned building.
The doors on this place were pretty entertaining. The side door's sign read "DANGER: Use front door." OK, we'll gladly use the front door! Except the front door had its own sign: "DANGER: Construction area." We're not sure just when "construction" stopped, but it has yet to start up again.
Corn fields. It's finally starting to look (and feel) like October.