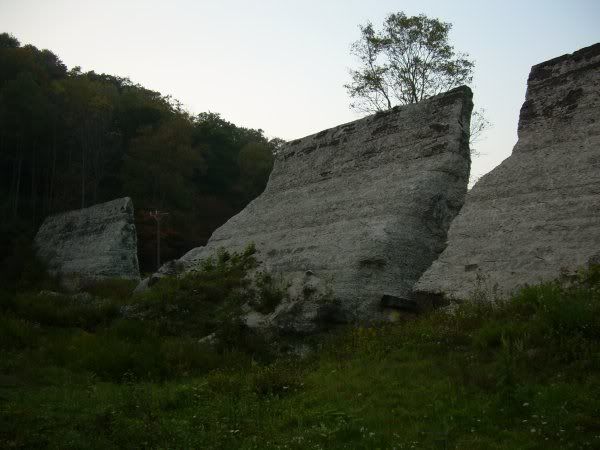 After putting off a visit to my mother-in-law for far too long, I took a trip to the ruins of the Austin Dam waaay north in Potter County. From
Wiki
:
In 1900 the Bayless Paper company chose to construct a paper mill in the Freeman Run Valley (in Potter County, PA) and by 1909 the company realized that occasional dry seasons required the reserve water source. After finding a small earthen dam to be inadequate, the T. Chalkey Hatton firm built a large concrete dam across the valley. The dam was 50 feet high and 550 feet long and cost $86,000 to construct.

Within only a few months, problems were detected. The dam bowed more than 36 feet under the pressure and the concrete started cracking. The bowing was alleviated by using dynamite to blast a 13-foot space for the excess water to spill over. The cracking was claimed to be normal because of the drying cement.

On September 30, 1911, the dam failed and destroyed the Bayless Paper Mill, as well as much of the town of Austin, Pennsylvania. The damage was approximately $10 million dollars. It also resulted in the deaths of 78 people. The paper mill and dam were rebuilt but the papermill was lost in a later fire in 1933, and the new dam failed in 1942 with no loss of life.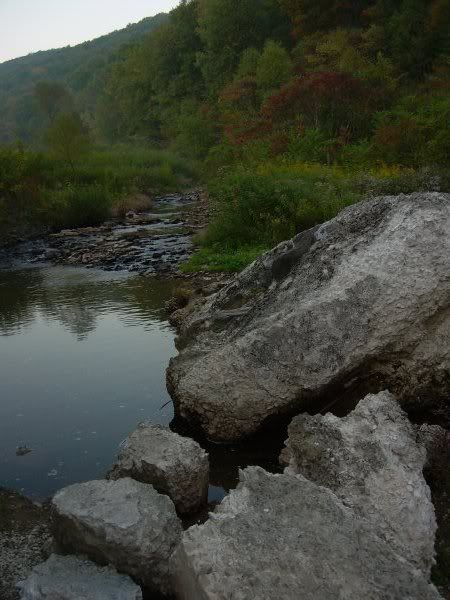 It was pretty awe-inspiring to look at the dam, to think that where we stood was once 40 feet of water. The area is a park now, complete with hiking trails and a stage for visiting musicians.
Even better than the dam ruins, though, were the Bayless paper mill ruins.
We couldn't get across to it -- steep drops, heavy vegetation and venomous snakes do not mix -- but we're going back later in October. We'll rappel down the hill if we need to.